Best 2022 NBA Finals Bets To Place Right Now: Golden State Warriors vs. Boston Celtics Best Bets
The 2022 NBA Finals has been decided, as it will be the Golden State Warriors vs. the Boston Celtics.
This will be the Warrriors first Finals appearance since 2019, as they have finally been able to get Stephen Curry and Klay Thompson back and healthy.
This will be the Celtics first Finals appearance since 2022, as Jayson Tatum and Jaylen Brown have emerged as one of the best young scoring duos the NBA has to offer.
Let's take a look at some of the best bets to place right now! You can get started betting on the NBA Finals for free in Ohio with betJACK Training Camp. Every day you login, you get 100 free tokens.
Warriors vs. Celtics - Game 1
The first game will take place Thursday evening in San Francisco, as the Warriors will have a week of rest, whereas the Celtics will be operating on four days of rest.
The Warriors are favored by a -3.5 point spread at the time of this writing, which is honestly pretty generously low for them, especially when you consider that they're the home team.
Bet on the Warriors to take Game 1, as the core group has the experience in these games and will have the advantage of being in front of their loud, passionate fans.
Warriors to Win Series
The Warriors are favored by a -150 moneyline to take home their fourth championship in less than a decade.
It makes all the sense in the world, given that Steph, Klay, and Draymond Green are all still on the roster were the core of the team that got this team all those championships.
They were fortunate enough to have Kevin Durant around for two of those championships, but don't forget that the Warriors won a championship and went 73-9 in the regular season before KD arrived.
Jordan Poole has emerged as one of the best shooters in the league, Kevon Looney has been getting it done as their gritty big man, and the rest of the group has just found their niche playing within their roles.
Expect the Warriors to come out on top and win this series while making a huge statement to the entire sports world.
Stephen Curry Wins Fnals MVP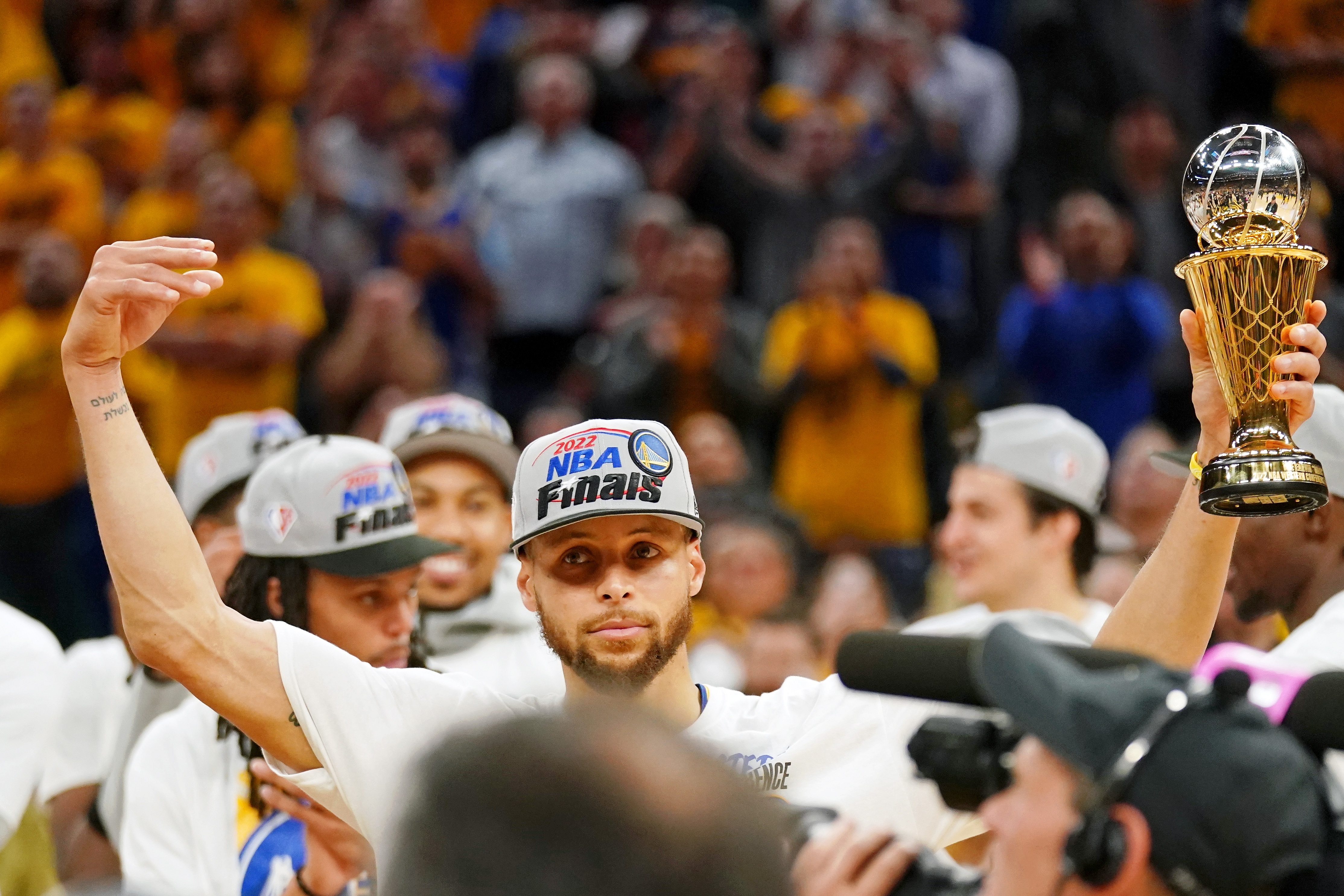 Steph Curry has many accolades in his career, including being the first unanimous MVP, a three-time champion, owner of the most 3-point makes in NBA history, and several other things.
What is missing, however, is a Finals MVP, which obviously gets some people to talk about his true legacy in this league.
Curry has shown up in many Finals games throughout his career, but there have been several games where he just simply looks human.
With that being said, Curry is much older, much more experienced, and has the monkey off his back of earning multiple championships.
Expect him to play loose within the confines of his game but also bring a little extra swag out there and ultimately come through to win his first career Finals MVP.