Five Cincinnati Bengals to Watch in their Preseason Opener Against the Arizona Cardinals
On Friday, Cincinnati Bengals fans get their first chance to see their team dress since the Super Bowl, as the Arizona Cardinals come to town. For many fans, it'll be a big "welcome to football" display for what's become the most anticipated Bengals season in recent memory.
Granted, it's not as though everyone plans to dress for this game. As many fans know, starters are being phased out of preseason games across the league. Regardless of that plan, there's no chance of seeing Bengals quarterback Joe Burrow, who is still on the mend from an appendectomy right before the opening of training camp.
While we won't see Burrow or a vast majority of other key starters on either team, there's certainly a few Bengals worth tracking on Friday evening:
Daxton Hill
As confirmed by Zac Taylor earlier this week, Daxton Hill will be one of the few potential starters to get run time in Friday's preseason tilt. Certainly, it'll be interesting for Bengals fans to get their first sights on their 31st-overall pick from this spring's draft.
Further, it'll be their first chance to get a glimpse of life without Jessie Bates III, which looms ahead in 2023. By all accounts, Hill's training camp has been revelatory and the 21-year-old safety is farther along than most inside the building expected. Ideally, fans won't see Daxton Hill on the field for more than the first handful of defensive possessions. Regardless, getting that first feel of in-game, NFL football will be valuable for Hill's progression.
Thaddeus Moss
The son of Randy Moss and a popular name amongst Bengals fans, this preseason presents a real opportunity for Thad Moss to win a job. With key blocking tight end Drew Sample set to miss a few more weeks with a knee injury, Moss is getting opportunities in camp to win his way up from the practice squad to the 53-man roster. While undersized, Moss could turn heads if he's able to showcase his skills as a red zone ball-winner.
Also worth noting? Moss is a close friend of Joe Burrow, which doesn't hurt his case to miss the roster. Still, Moss's young career has so far been defined by injuries, including one in a warm-up session just hours before what was supposed to be his first regular-season NFL appearance.
Jackson Carman and Cordell Volson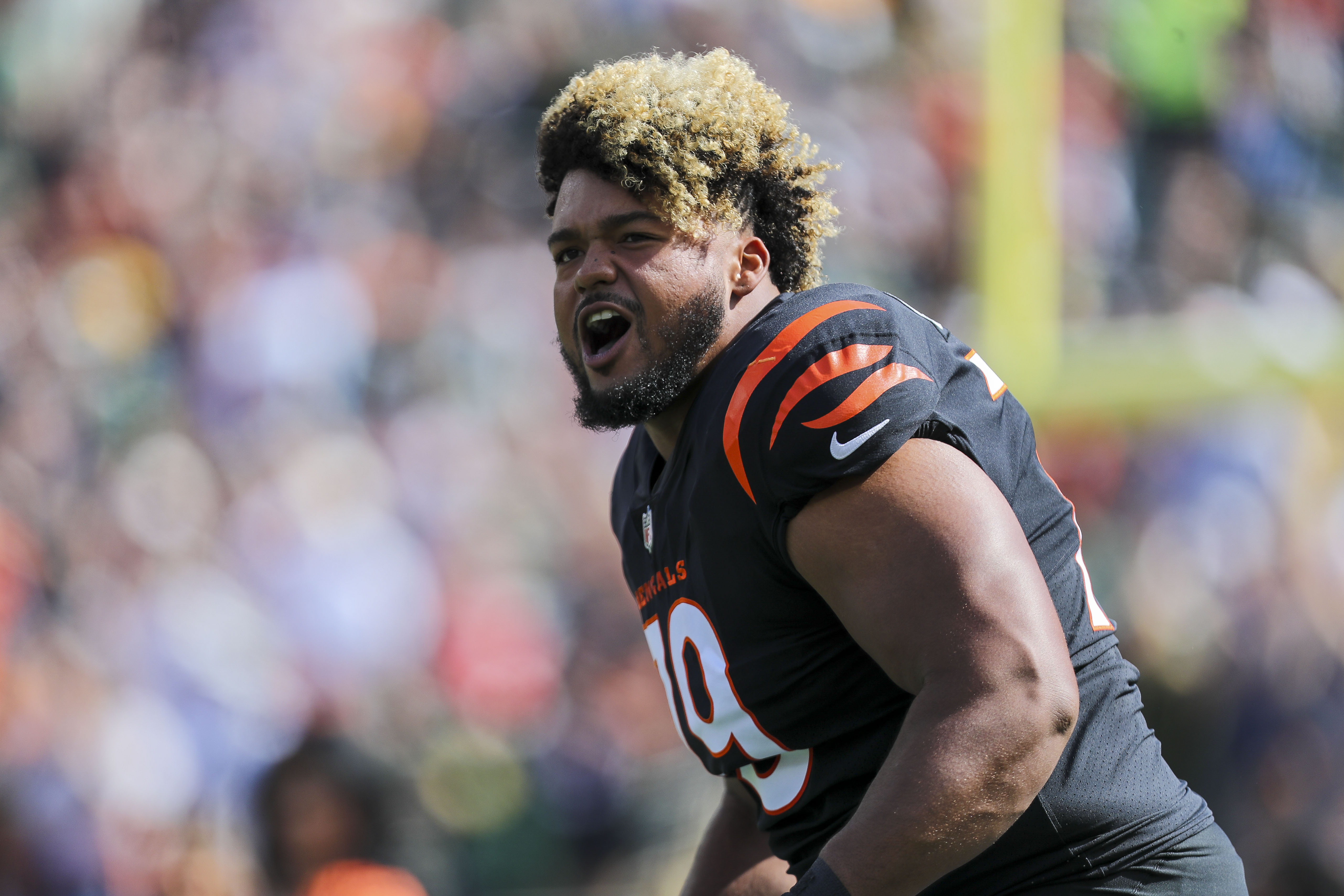 Combining two players into one here, these two are locked into one of the only position battles for a starting role in Cincinnati. As of now, Jackson Carman has a clear leg up after dramatically improving his physical condition this offseason and sharpening his mental game along the way.
Further, Carman has taken a vast majority of the first-team reps between Jonah Williams and Ted Karras on the Bengals' offensive line. However, Cordell Volson, the team's fourth-round pick in the 2022 NFL Draft, isn't out of the mix.
Volson continues to earn praise from coach Taylor and offensive line coach/run game coordinator Frank Pollack. Taylor also confirmed that his decision to play Carman on Friday does relate to his position battle with Volson. This one might get interesting, so stay tuned.
Kendric Pryor
It's been an impressive training camp so far for Kendric Pryor, an undrafted rookie out of Wisconsin. With a job open in the back end of the Bengals high-powered wide receiver room, Kendric Pryor continues to wedge his way into the conversation for that roster spot. Pryor's ability to rise above defenders and win with his physical abilities shines brightly in some opportunities. While somewhat slow-footed, his route to the roster comes from winning in short yardage situations and finding ways to impress as a route runner.
Tyler Shelvin
While he's still an interesting prospect, Tyler Shelvin has work to do if he hopes to earn a spot on the 2022 Cincinnati Bengals roster to start the year. Right now, he's being outshined by fellow young defensive linemen Cameron Sample, Jeffrey Gunter, Zach Carter, and even UDFA Tariqious Tisdale. Shelvin, a mammoth of a run stuffer, hasn't flashed the same level of athleticism that showed up on his tape at LSU.
Certainly, his size and talent provide a reason to stay optimistic about the 2021 fourth-round pick. However, in a Bengals run defense that ranked fifth in yards allowed last season, Shelvin needs to show a lot more if he wants to earn snaps as DJ Reader's backup.