Most Interesting Players to Track at Cincinnati Bengals Training Camp
Heading into the 2022 season, it seems like it's the first time in a long time that the Cincinnati Bengals will head into training camp without many holes or questions.
Granted, Joe Burrow suffered from a battle with appendicitis (more on that later) a day before their first practice, but that won't hold him out of the regular season in any capacity.
With a rebuilt offensive line and a large group of young talent set to take a leap, things are set for another big year for the orange and black. However, no training camp can go without a few items of intrigue. Sure, Bengals fans are looking at far less imposing problems, but this team needs a few variables to go their way to ensure their success.
Here's a look at a few of the names that will define training camp for the Cincinnati Bengals over the next handful of weeks:
Joe Burrow
Admittedly, this was not a name I'd have close to this list a week ago. However, just a day removed from his appendectomy, Joe Burrow is in the midst of another training camp comeback. Granted, appendix removal is light years from the complicated knee surgery Burrow received roughly 20 months ago. Burrow is expected to return to the facility later this week and should be practicing without restrictions as soon as his body feels comfortable.
Still, it will be an important story to track as the Bengals begin their fight back to the Super Bowl. After all, the appendix is in the torso and some of Burrow's downfield tosses require a high level of torque. Ensuring his comfort and health are at a peak prior to kick-off in Week One will be essential.
Joseph Ossai
After missing his entire rookie season with a meniscus tear, it's all systems go for the 22-year-old pass rusher. According to Bengals sources, Ossai won't have restrictions on the field to start camp, which is huge for his development. Obviously, the Bengals have a premier pass rusher in Trey Hendrickson, but adding more to the mix will be key for their success to carry over into 2022. Ossai receives regard for his tenacity and finishing ability, which were on full display in his masterclass of a preseason debut. Granted, that'll need to carry into the regular season.
Daxton Hill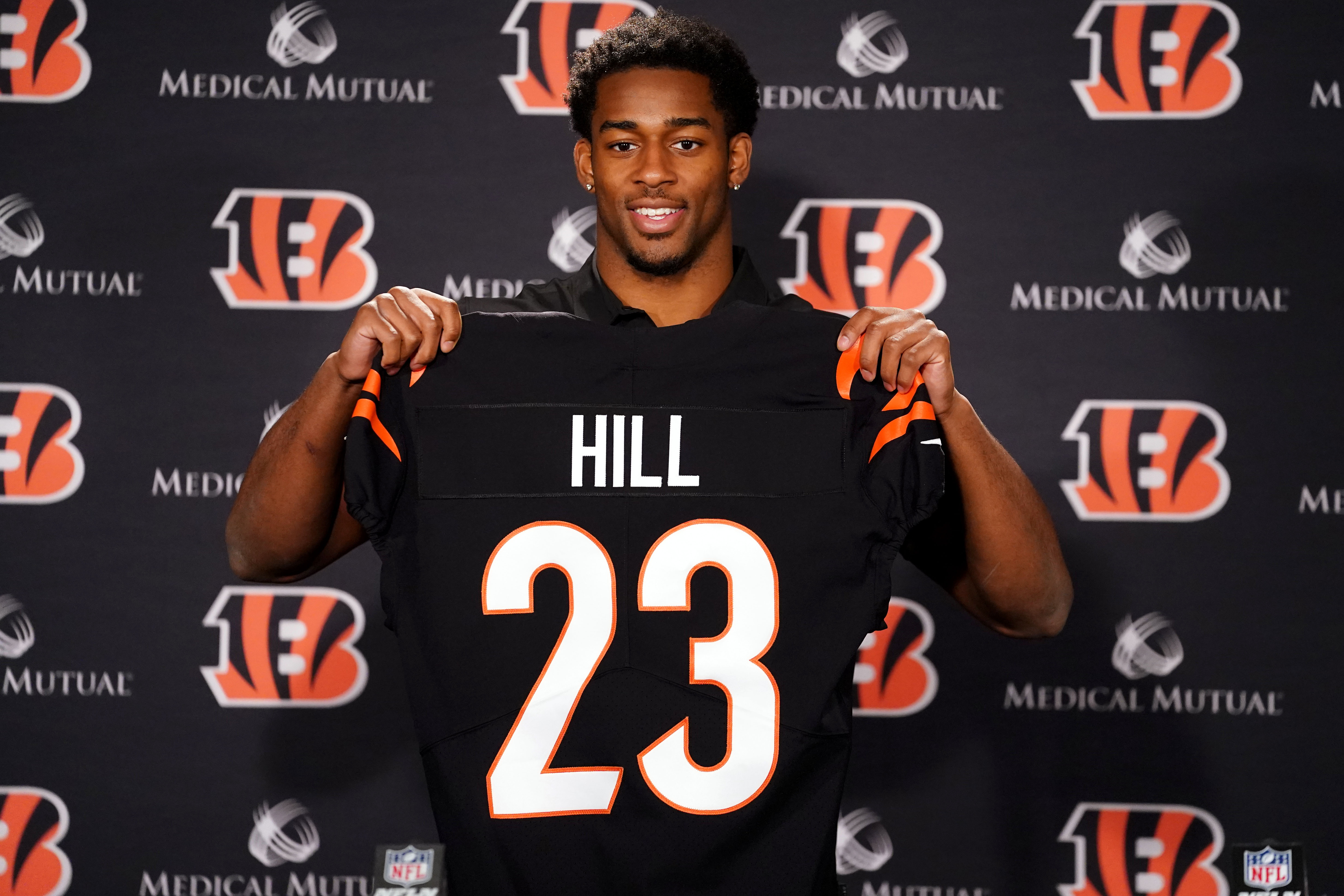 Joining the team as their 31st pick in the 2022 NFL Draft, Daxton Hill has high expectations from the Bengals organization. Plus, with Jessie Bates III set to sit out for a majority of training camp in the midst of a contract dispute, Hill will take first-team reps as the team's free safety.
These reps will be crucial in Hill's development, especially as he sets to take over for the All-Pro Bates in 2023. Further, Hill has been lauded for his versatility, so it'll be incredibly interesting to see what defensive coordinator Lou Anarumo has in the drawer for the 21-year-old rookie.
Jackson Carman
Entering his second season, the frequently-maligned second-round pick from the 2021 draft has a lot to prove in his second season. Certainly, Jackson Carman brings all of the physical tools a football coach could hope to see.
However, with the horrific details reported by Defector this off-season, in addition to his conditioning/commitment issues, there are a ton of questions around the 22-year-old lineman. With the team drafting Cordell Volson in the fourth round of the 2022 NFL Draft, it's clear the team designed a contingency plan.
Drue Chrisman
Who doesn't love a camp competition between a couple of punters? With the incumbent Kevin Huber showing signs of regression last season, the door is open for Ohio State-alum Drue Chrisman to win the team's punting job. Importantly, Bengals' special teams coordinator Darrin Simmons has stated that consistency as a kick holder will be key for Chrisman.