Which Browns Rookies Will Make Biggest Impact in 2022?
Rookie minicamp is underway in Berea, as the Cleveland Browns inch closer to the start of their 2022 campaign.
Let's take a look at which rookies will have a chance to make an immediate impact.
Browns Rookies: Immediate Impact
WR David Bell
Third-round pick David Bell has an opportunity to make his presence felt in his rookie season with the Browns.
After the departure of Jarvis Landry to New Orleans, Bell really only has Amari Cooper and Donovan Peoples-Jones in front of him on the depth chart. While the Browns are still high on Anthony Schwartz, Bell provides a sturdy-handed replacement for Landry in the slot.
I would expect the reigning Big 10 Receiver of the Year to see the field a good amount as a rookie, especially if the Browns stay true to their word and remain out of the veteran free agent wide receiver market.
PK Cade York
It became apparent that Cade York would be an important piece of this Browns roster when GM Andrew Berry spent a 4th-round pick on him.
It became even more apparent when the team released incumbent Chase McLaughlin and Chris Blewitt. York is going to be the Browns kicker in 2022.
DT Perrion Winfrey
The Browns defensive tackle position is currently wide open for the taking. At least it should be.
Cleveland lost Malik Jackson to free agency and Malik McDowell to the South Florida Police Department, who arrested him for public nudity near a school earlier this offseason.
That leaves the Browns with Jordan Elliott and free agent Taven Bryan to compete with Tommy Togiai and Sheldon Day. It's an underwhelming group that could bring in a free agent veteran like Ndamukong Suh or Akeim Hicks. Even if they do add a veteran, expect Winfrey to contribute a little bit as a rookie.
Browns Rookies: Some Impact
DE Alex Wright
Alex Wright's impact on this Browns roster for 2022 is completely up to Jadeveon Clowney, who is still currently a free agent.
If Clowney returns, he will maintain his role opposite Myles Garrett. Despite that, Wright could assume the role of Takk McKinley from last season, who was awesome off the edge in relief of Garrett or Clowney.
Wright has a ton of fans in Berea. The front office and staff are very high on him. But he's very young. We've seen players at his age, 21, need some time before developing into a legitimate NFL player.
The trade for Chase Winovich will help alleviate some of that pressure for Wright to make an impact, but without Clowney for now, the opportunity is certainly there.
Browns Rookies: Limited Impact
CB Martin Emerson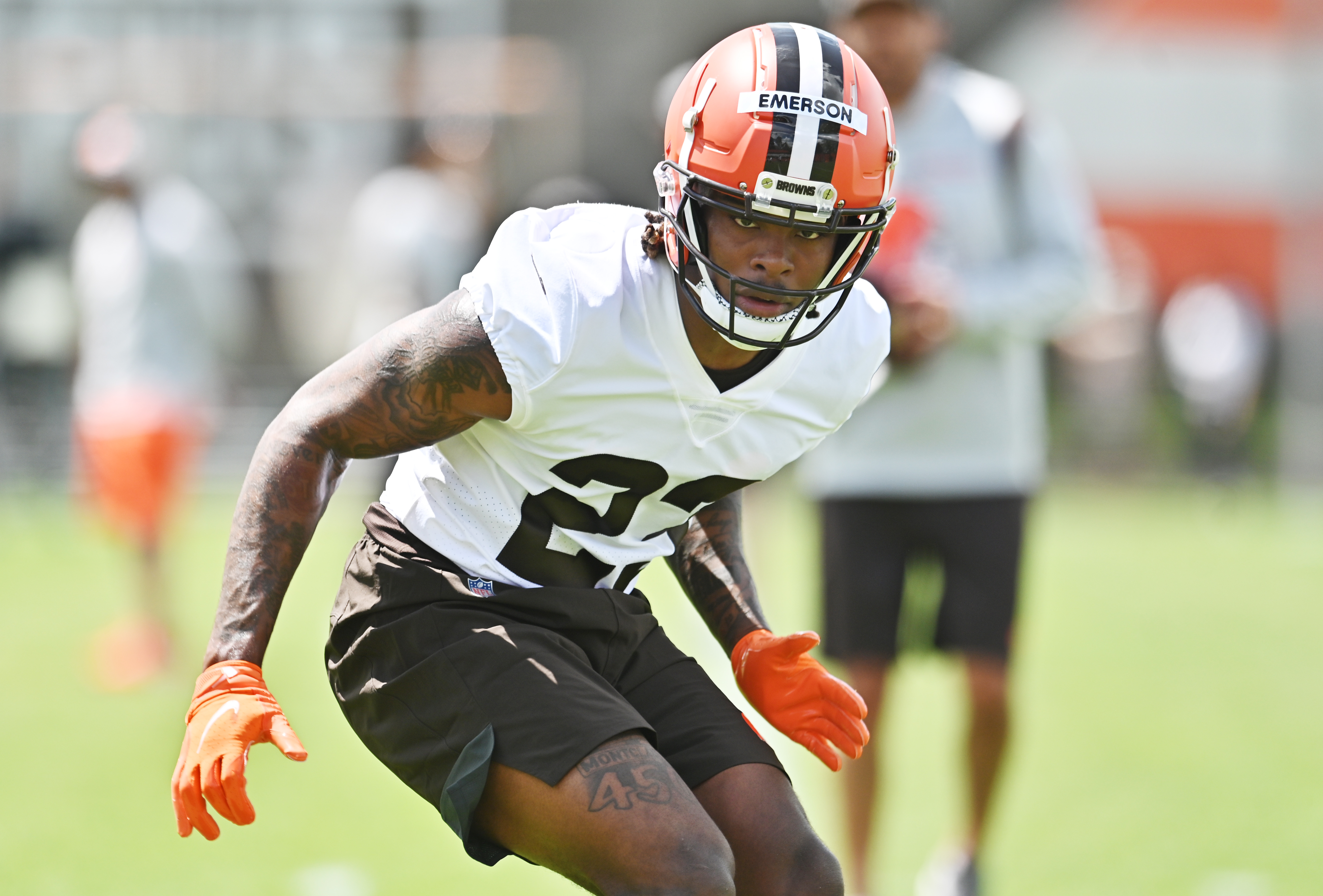 Unfortunately for Martin Emerson, even after trading Troy Hill back to the Los Angeles Rams, the Browns have three legitimate cornerbacks in front of him.
Obviously, Denzel Ward and Greg Newsome II aren't going anywhere. That leaves Greedy Williams.
Williams, who was drafted by John Dorsey in 2019, will be a free agent after this season. His NFL tenure has been injury-riddled, so the Browns could elect to "see what he has" in the final year of his deal. Surely, he will be looking to prove that as well.
Meanwhile, Newsome's versatility and ability to thrive in different coverages will make it hard to take him off the field. The Browns also like A.J. Green, who could be the last corner rostered.
DE Isaiah Thomas
It's rare that seventh round picks make any impact on any roster. But similar to Alex Wright, Isaiah Thomas could have an avenue to getting snaps depending on Clowney's impending free agency.
The Browns elected to keep Thomas and Winfrey together after they were both successful at Oklahoma.
Browns Rookies: Almost No Impact
RB Jerome Ford
It's easy to get excited about Jerome Ford because of his success at Cincinnati, but don't get too excited for this year.
Unless Kareem Hunt or D'Ernest Johnson are traded at some point, it's a very crowded running back room.
I'd look for the Browns to get creative and find a way to stash Ford on the active roster. Perhaps this marks the end of the road for Demetric Felton. Maybe the Browns won't carry a fullback.
It's obvious Ford is a player they really like, and he will likely take over for Hunt after this season.
C Dawson Deaton
Smart front offices always keep investing in the offensive line. It's never a complete project. In this case, however, Deaton won't contribute to the Browns this season.
For the Browns, it's likely that Nick Harris will be snapping the ball to Deshaun Watson or Jacoby Brissett in 2022. Deaton could be snapping it to Josh Dobbs or Felix Harper on the practice squad, perhaps.
WR Michael Woods II
Barring something unforeseen, it's going to be an uphill battle for Woods to make this roster.
The Browns carry six wide receivers. Cooper, Peoples-Jones, Bell, and Schwartz take five of those spots. Return specialist Jakeem Grant likely takes the last spot. Felton exists, too. Perhaps Woods could find a home on the Browns practice squad.