Three Realistic Baker Mayfield Trade Scenarios
Following a surprising playoff berth in 2020, the Cleveland Browns had little doubt in Baker Mayfield being their franchise quarterback. One year later, Mayfield's time in Cleveland seems assured to end in the coming days and weeks.
The 2018 first-overall pick battled a nagging shoulder injury that limited his effectiveness for the 8-9 Browns. Now, with three-time Pro Bowler Deshaun Watson in town, Baker becomes an $18.8 million backup in the fifth and final year of his rookie contract.
Cleveland would hate to eat all of Mayfield's dead cap by releasing him, so trading him is Option A. Fortunately, at least three plausible trade scenarios would work for Baker and the Browns.
Scenario 1: Baker Moves to the Tar Heel State
Trade: Carolina Panthers acquire Mayfield in exchange for a 2023 fifth-round pick and 50 percent of Mayfield's salary.
Even though Mayfield was the first-overall pick just four years ago, teams aren't exactly spamming Browns GM Andrew Berry with trade calls for the 27-year-old. The reality is that Mayfield's cap hit of close to $19 million is too much for most teams to stomach.
One team with a need at quarterback is the Panthers, who seem ready to punt on Sam Darnold after one forgettable season. However, Darnold's incoming cap hit is identical to Mayfield's. So unless the Browns somehow receive Darnold in the deal (unlikely), Cleveland must make some concessions.
Assuming Cleveland doesn't want to attach a draft pick to Mayfield, the logical move would be to eat some of his salary. In this scenario, the Browns and Panthers will each pay 50 percent of Baker's $18.8 million cap hit, with Carolina also sending a Day 3 pick for next year's draft.
Of course, for this deal to work, the Panthers would have to pass on a QB with their sixth-overall pick. In addition, they have to honestly believe Mayfield is a sizable upgrade over Darnold and a potential franchise quarterback past 2022.
Scenario 2: Mayfield Replaces a Franchise Icon
Trade: Seattle Seahawks acquire Mayfield in exchange for a 2022 fourth-round pick and 50 percent of Mayfield's salary.
Of every team linked to Mayfield, the Seahawks make the most sense. Seattle moved on from longtime quarterback Russell Wilson, sending the Super Bowl champ to the Denver Broncos. That leaves Drew Lock and Geno Smith as Seattle's top QBs on the depth chart.
Mayfield is a legitimate upgrade over both veteran signal-callers in Seattle, even after his down year. It also helps that Lock and Smith are on affordable salaries for just one more season.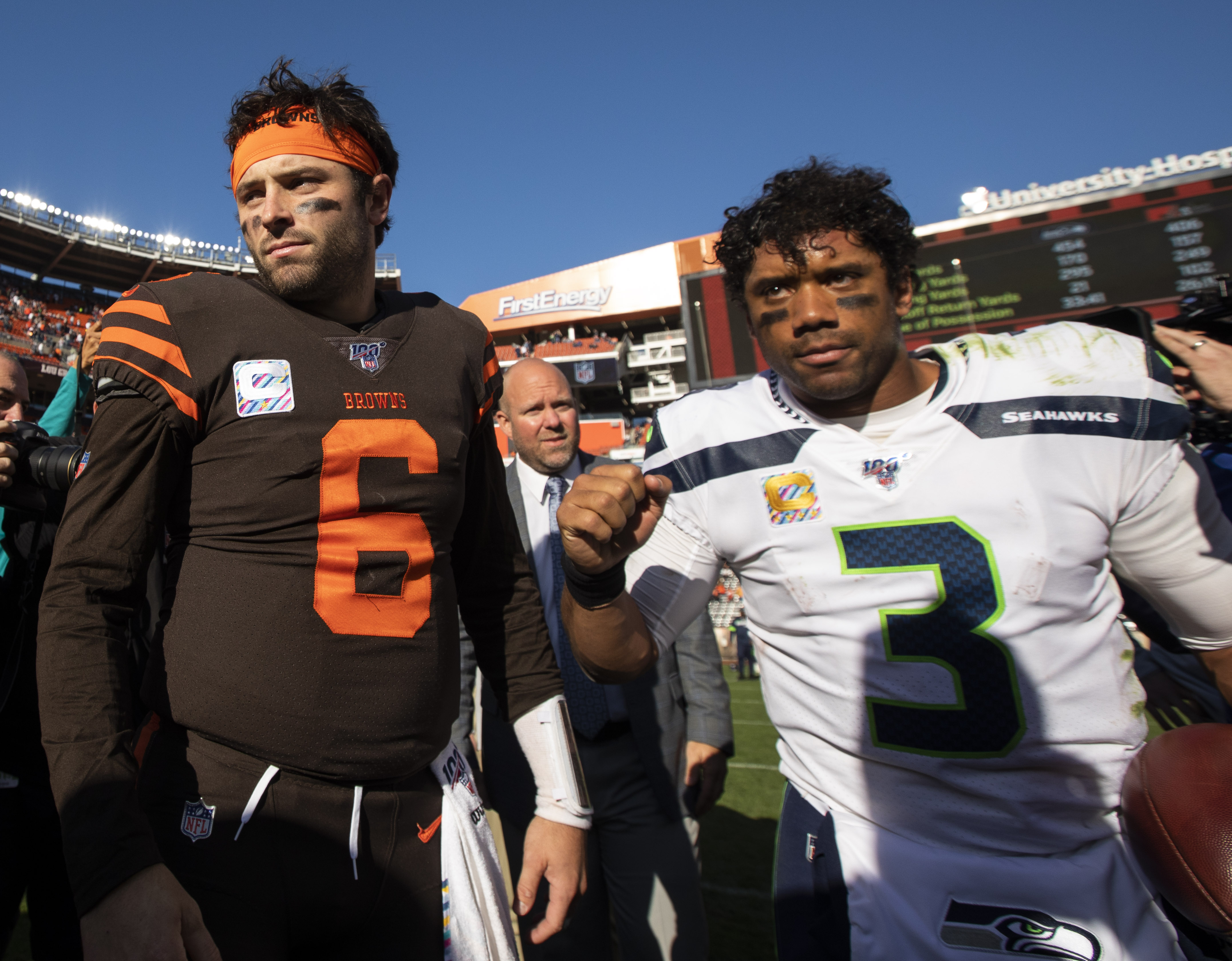 While the Seahawks could hope Mayfield is released before snatching him up in free agency, they risk him joining another team. Therefore, Seattle could ensure it lands its guy by sending a Day 3 pick to Cleveland and taking on at least 50% of Baker's salary.
Like the proposal mentioned above with Carolina, Cleveland would be glad to trade its former top pick to the NFC. However, the Browns will still need to accept that every realistic scenario has them paying millions for Mayfield to play elsewhere.
Scenario 3: A Surprise Team Calls the Browns
Trade: Tampa Bay Buccaneers acquire Mayfield in exchange for a 2022 fourth-round pick and 20 percent of Mayfield's salary.
Two months ago, the Buccaneers were in the quarterback market as much as anyone. Then Tom Brady ended his brief retirement, making the 44-year-old QB1 for the 2020 Super Bowl champs.
However, Tampa Bay has to be wondering about their quarterback situation past this season. If Brady leaves for good when the year ends, former second-rounder Kyle Trask becomes the lone signal-caller under contract. But what if Mayfield became the heir apparent to Brady instead?
The Bucs could take a flier on Mayfield, sitting him behind the GOAT in 2022. From there, they could pass the torch to the proven vet instead of an unknown like Trask. Meanwhile, the Browns would receive a fourth-round pick in the deal, although they may need to eat most of Baker's money for Tampa to agree.
Cleveland would be on the hook for more cash while Mayfield sits behind Brady. However, getting a fourth-rounder isn't a bad return, while Baker could soak up everything he can from an all-time great.
🏈Ready to bet on the 2022 NFL Draft? Read all of our NFL Draft content and bet on NFL Draft Prop Bets FOR FREE in Ohio with betJACK Training Camp! 🏈